Good Quality Water Has A Lot Of Benefits
Let our experts check the quality of water at your place. Book a free water test now .
Good Quality Water Has A Lot Of Benefits
Why You Should Not Compromise On Water Quality?
Water is a universal solvent which means it picks up a little bit of everything it touches in the environment as it goes along before it gets to you, therefore, picking up things like; herbicides, pesticides, microplastics, lead, oil residue, waste and much more.
Reverse Osmosis system will get rid of all of these to give you healthy luxurious water.
Remember, would you rather have a filter, or be a filter?
The hard water in your home is costing you money every month in damage to your home's plumbing and appliances.
According to large manufactures such as GE, Maytag, Whirlpool, Speed Queen, Hotpoint and Kitchen Aid if you use treated water they stand behind the promise that their appliances will last longer. sometimes as much as double the normal life expectancy, specifically your water heater, which is a large user of energy in your home. An IH2O system can save you as much as 29% on your energy bills.
Cleaning Costs And Time Spent
Conditioned water will make your life much easier by cutting the time required to clean your home by over 33% that's over 1 / 3 longer just to get the same result!
Hard to clean items such as bathtubs, showers, toilet bowls, kitchen sinks, stainless steel and dishes clean with just a light wipe instead of scrubbing.
A research program conducted by Ohio State University showed that treated water saves one out of three hours required to clean your home.
On an annual basis this results in saving you the equivalent of ten eight-hour days!
That time would be better spent doing what you want to rather than having to clean again and again.
Not having an Water treatment system is costing you money every month in deterioration to your washable clothing, linens and anything else that comes into contact with it.
The American Laundry Institute states  "Washable items such as clothing, towels and linens wear out 15% faster in raw tap water rather than in conditioned water."  With IH2O your clothes will come out softer, whiter and brighter than they ever have before.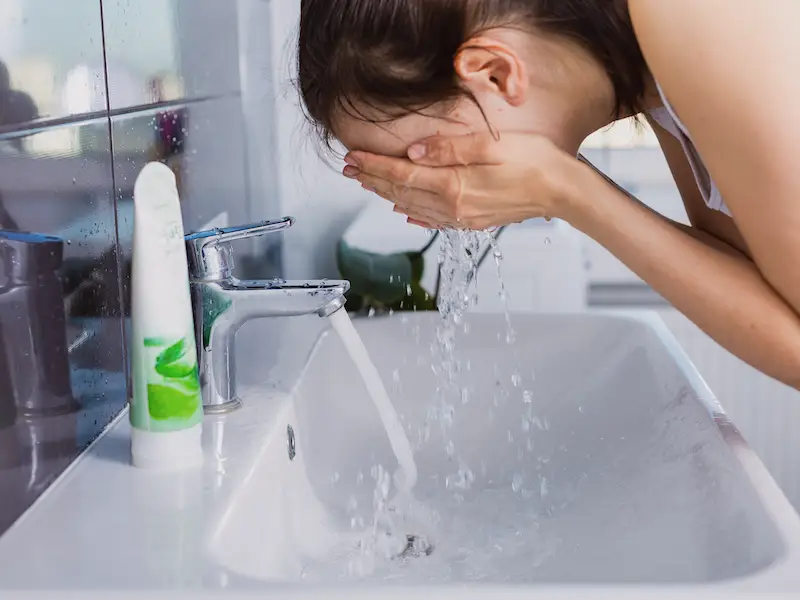 Approximately 11% of people in North America have skin allergies, and research suggests that hard water may be a contributing factor. Studies have shown that impurities in hard water can make it difficult for soap and shampoo to wash off, leading to dryness of the skin and scalp. Heavy metals in hard water can clog pores, increase acne, and act as free radicals that damage healthy skin cells, resulting in collagen breakdown, fine lines, and wrinkles. Additionally, hard water has been correlated with skin disorders such as eczema and fibromyalgia, possibly due to the high concentration of minerals like calcium that can contribute to moisture loss in the skin
Conditioned water in your home will make life much nicer by making even ordinary hair come alive. You can greatly reduce or even totally eliminate costly hair care products such as conditioner and cream rinses. Conditioned water will leave your skin baby soft after bathing and will transform your bath or shower into a luxurious experience by leaving your skin extremely soft and most importantly clean! This will greatly eliminate the use of expensive hand lotions and moisturizers!
Approximately 11% of people in North America have skin allergies, and research suggests that hard water may be a contributing factor. Studies have shown that impurities in hard water can make it difficult for soap and shampoo to wash off, leading to dryness of the skin and scalp. Heavy metals in hard water can clog pores, increase acne, and act as free radicals that damage healthy skin cells, resulting in collagen breakdown, fine lines, and wrinkles. Additionally, hard water has been correlated with skin disorders such as eczema and fibromyalgia, possibly due to the high concentration of minerals like calcium that can contribute to moisture loss in the skin